Rune stone found in Texas
"Ron Gossen" rgossen at ssfcu.org wrote: I need your help with something you may find very interesting.
Several years ago in furthering my interest in Southwestern (U.S.) petroglyphs, I acquired a carved stone of unknown origin. As a trustee of a local history and natural science museum, I asked the staff archaeologist specializing in trans-Pecos cultures (west Texas) her opinion. She could not offer any advice, other than, perhaps, to contact someone specializing in "more northern" tribes. I didn't pursue it any further.
I recently came across a term new to my vocabulary, "epigraphs," and was reminded of the stone. Using a web search engine, I found several web sites using the term. Within seconds, I was confronted with a surprising similarity between Danish runes and the engraving on my stone. It appears to me that the symbols are similar-enough to pursue further study. Hence, I am asking your opinion of the attached.
The attached is my partial transcription of the symbols and a description of the stone. Please excuse my poor copying ability, but I believe the symbols are fairly close to the original in form and size. It's attached in both jpeg and tiff formats.
Do you have any opinion? I would appreciate your comments.
Thank you, in advance, for any assistance or direction that you can provide.
Sincerely,
Ron Gossen San Antonio, Texas
---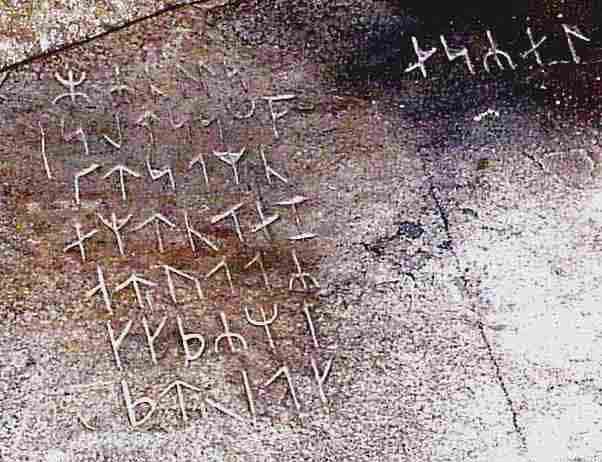 Pete took this photo while he was in Texas.